The Premier Siding Contractor In Madison, WI
In addition to our comprehensive selection of roofing service, we also offer high-grade residential siding services that can completely transform the look of your property.  Whether you want to add siding to an existing building or replace your current siding with something that's more up-to-date, you can rely on the #1 Siding Contractor, Heins Contracting, to complete the work to a terrific standard, all for a highly competitive cost.
Siding Contractor That Can Install Vinyl / LP Smart Siding
In addition to fitting traditional wooden siding, we can also complete a selection of Vinyl / LP Smart siding projects.  A contemporary alternative to wood, vinyl siding is available in a wide range of colors and textures – ideal if you want a modern look added to your home.  In addition, it's virtually maintenance free and extremely hard-wearing; no more annual painting work to keep your siding looking good!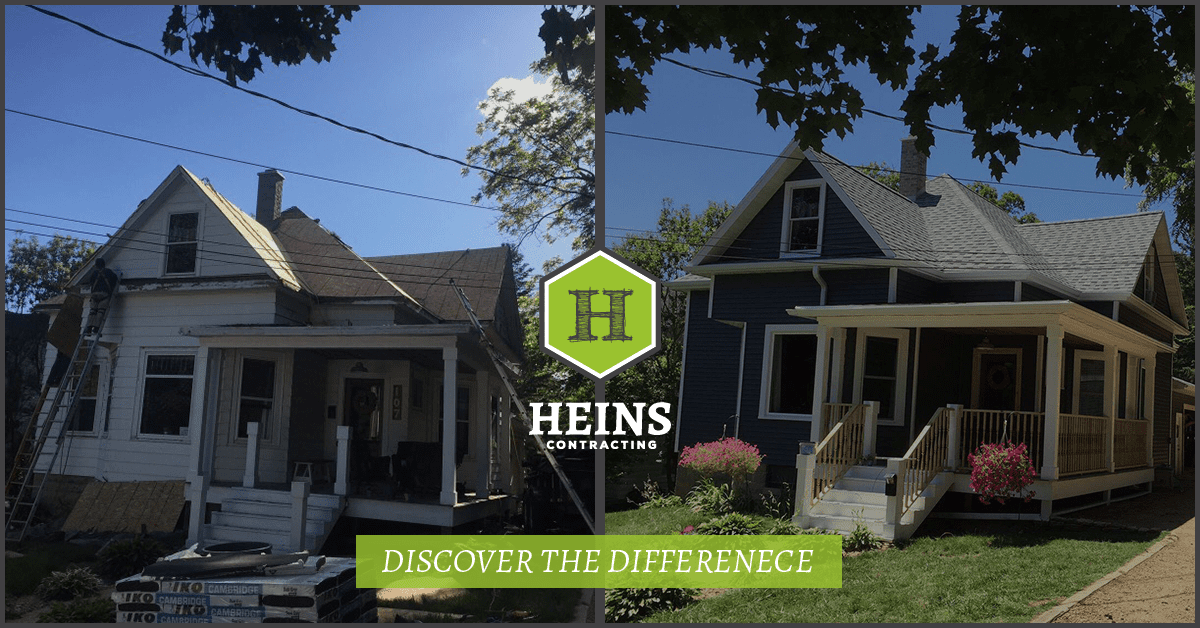 Contact us at the office nearest to you or submit a business inquiry online.
"They did a great job! Friendly, timely, easy to work with, excellent clean up, strongly recommend!"
Siding Contractor That Can Also Undertake Repair Work
Our experienced, skilled team doesn't just complete new-build projects; they can also undertake repair jobs on existing siding.  If you discover that your siding has become cracked or warped due to the effects of weathering, or discover loose boards following a storm, just give us a call and we'll be happy to come out and look at them for you.
Siding Repair Services for Clients in the Madison, Middleton, Waunakee, Sun Prairie, Verona, and Fitchburg WI Areas
If you're looking for fast, responsive and high-caliber solutions to your siding repairs in the local area, we're here to help.  We provide a versatile service that's ideal for residential and commercial properties, helping to keep the exterior of your property in optimal condition.  Available for jobs of all shapes and sizes, to discover more about what we can offer, or to obtain a FREE quote, call us at 877-347-6634.
Requires little or no maintenance. Never needs repainting. Low Cost compare to other options.
Great looking material prized by architects and designers. Wood siding can last for generations!
Fiber-cement siding resists expanding and contracting with changes in humidity & temperature. However it is heavy!
Residential Siding Specialists
Upgrading or replacing your exterior siding can be a daunting decision. Mainly because of the all the choices you have to make on the different types of siding for homes. Insulated vinyl, fiber cement, or wooden shakes are just a few of the siding options and materials you have as a homeowner. Education is key to making a comfortable and calculated decision that will allow you to sleep well at night.
Our team members will work with you to create the perfect siding option that will enhance not only the functionality of your home, but also its beauty. We offer several colors and profiles to choose from, as well as matching soffit and fascia, so you are sure to find the perfect option that will suit both your preferences and budget requirements. What's more, your new vinyl siding will be installed by our factory-trained and experienced technicians according to manufacturer specifications and the industry's best practices to ensure that it will perform optimally and look its best year after year.