Heins Contracting is proud to support Dane County veterans.
Stay tuned next summer to nominate a vet.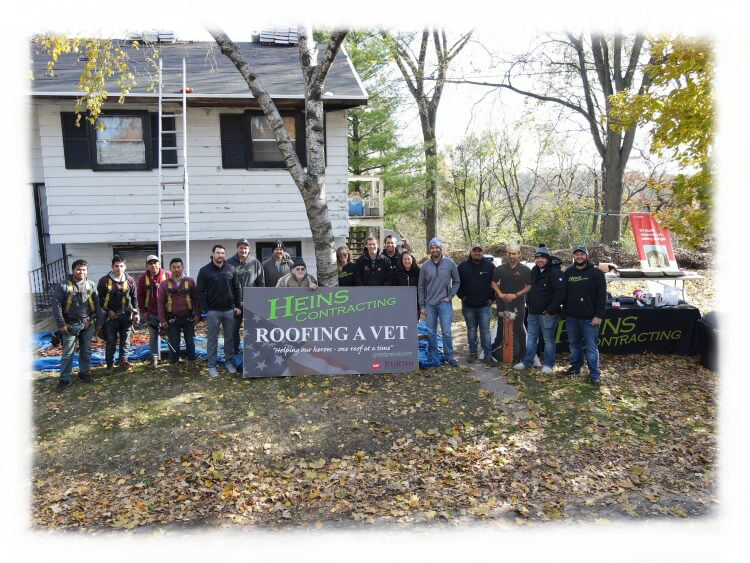 Heins Contracting supports local vets.
Heins Contracting is proud to support Dane County veterans through our "Roofing A Vet" program. Each year, in conjunction with Zuern Building Products and GAF – Roofing, we select a veteran to receive a roof replacement free of charge. All qualified nominees will receive a $1,000 gift certificate towards a future roofing project. Nominations are open to anyone residing in Dane County that is currently serving or has served in our nation's military.
On Veteran's Day 2021, we replaced veteran Michael Moore's roof on his home in Deerfield, WI. Michael was nominated by his grandson; you can find videos of us surprising and notifying Michael and his family that we would be replacing their roof free of charge, as well as a great video showing the transformation. The videos explain what Michael has been going through and highlight why we chose him to receive a free roof replacement this year.
Video Links:
"The sacrifices our veterans have made are immeasurable and oftentimes forgotten. This is our way of showing our gratitude by helping our heroes one roof at a time."
– Bryan Heins, co-owner of Heins Contracting
Thank you to all veterans for their service today and every day. Your sacrifices are beyond appreciated.
Special Thanks To

Nomination Deadline October 17th