ICE DAM REMOVAL SERVICES IN MADISON WI
Snow & Ice Dam Removal- The Right Way
In the Midwest, just hearing the words "ice dam" makes you cringe. With the constant freezing and thawing you experience, even the slightest issue with a roof can allow for thousands of dollars in roof damage caused by ice dams. There is certainly a right and many wrong ways to remove ice dams on your home. If done incorrectly you can easily cause more damage. At Heins Contracting we have invested in top of the line, low pressure steam equipment to remove ice dams without adding more damage to a bad situation.
The Right People On Your Roof
Often times pressure washing companies will advertise snow and ice dam removal services which may get the job done. Home roof replacements make up over 50% of our regular business, which means we specialize in knowing all components that make up your home's roof and are on roofs year round. We often receive calls to remove ice dams from a home that had ice dams removed previously because the cause of the ice dams had not been fixed. When you have Heins Contracting remove your ice dams we are able to identify and resolve the issues that caused ice damming in the first place.
How To Remove Ice Dams
From swinging a hammer, to using a hot water, high-pressure washer, there are more incorrect ways than correct to remove ice dams. If you are here, you have recognized that hiring a professional is the most cost-effective way to remove your ice dams. By using low pressure steam you will witness that we do not damage your roof like a high-pressure washer does. Our steamers are at the right temperature to melt away the ice dams without causing damage, but aren't at such high pressure where you experience large amounts of granule loss on your shingles.
On top of the right equipment, Heins Contracting is fully bonded and insured giving you the peace of mind when we are on your icy roof.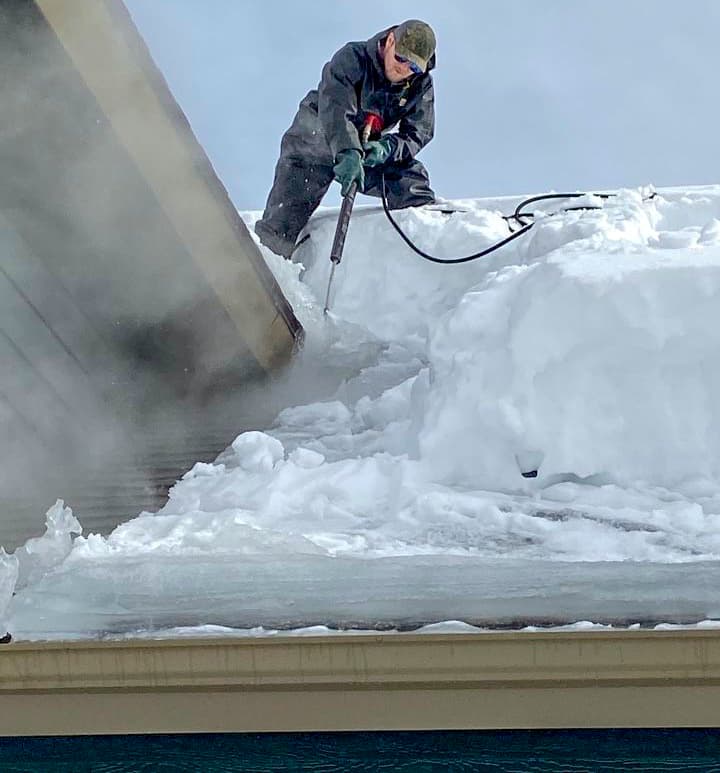 Contact us at the office nearest to you or submit a business inquiry online.
"They did a great job! Friendly, timely, easy to work with, excellent clean up, strongly recommend."