METAL ROOFING IN MADISON, WI
Metal Roofing Installation Services in Madison, WI
Low-maintenance and extremely long-lasting, our range of metal roofing choices we offer can completely transform the look of your property. Suitable for both residential and commercial properties, metal roofs are well-known for their durability and if fitted correctly, can last between forty to seventy years, usually with minimal maintenance.
Extensive Experience in fitting metal roofs of all shapes and sizes.
Skilled to work with a variety of metals, each of which has its own set of characteristics.
Top-grade installations which provide peak energy efficiency
GOING GREEN: metal roofing is one of the easiest materials to recycle when its useful lifespan is over.
If you're not sure what type of residential roofing is going to be best, we are always happy to tell you more about the options we offer.
Diamond Steel Roofing
One of our favorite forms of metal roofing comes from Diamond Steel Roofing. With its innovative design and proven record of durability, it has quickly become popular with our customers. Diamond Steel Roofing has a unique design coupled with premium materials that provides an unmatched level of durability and is even mildew resistant. Truly a roof that will last a lifetime and beyond.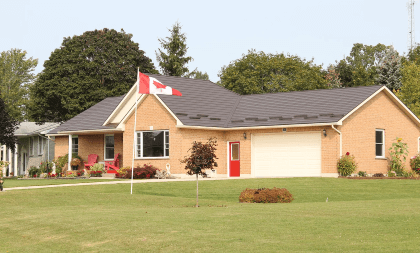 Ag Steel Roofing
Most common on agriculture structures, as the name states, ag steel is versatile design able to be used as a roofing or siding solution. Ag steel has a wide variety of specifications and options that are key variables for pricing. Each ag steel job can be very unique and varying requirements depending on the use of the structure. For ag steel inquiries we send a specialist to discuss needs, wants, and goals you have for the structure, then determine a course of action and plan for materials to be used.
What to expect from Heins Contracting
Superior craftsmanship with an eye for detail

Time-served, highly trained craftsmen

Quality control inspections throughout the process

Factory direct pricing with products designed specifically for the Midwest

Product specific warranties

10-Year Workmanship warranty provide by Heins Contracting

Fully Licensed & Insured
Our Free, No Pressure, Inspection & Estimate
It all starts with a free, no pressure, estimate. Our specialist will meet with you to discuss any current concerns or damage that needs to be addressed immediately. Next, we want to hear from you! You may have an idea or design in mind for your project but it is not required. We are skilled to provide suggestions and ideas that fit well for your specific project and walk you through how we will accomplish that. We have samples on hand for you to see and touch in person.
Each free estimate includes a home inspection where we look for any damage that you may not know of. This also allows us to get an in-depth look at the positives your home provides. Not always is a major project required to accomplish specific goals for your home. We are not a selling business; we are a service business.
Oftentimes we are able to provide your estimate on site the day of our first appointment. If that is not possible, we will set an appointment that day to return in the days following to explain how we feel the best approach to the project is and the specific materials we recommend using. We may provide you a couple options so that you can fine tune your project to fit your overall vision.
With years of experience behind us, we are able to bring creativity and skill to your project, as well as deliver excellent results. The proof is clear by our reviews.
Contact us at the office nearest to you or submit a business inquiry online.
"Great company. Great communication. No hidden anything-total transparency on everything. Great job from start to finish! Highly recommend."